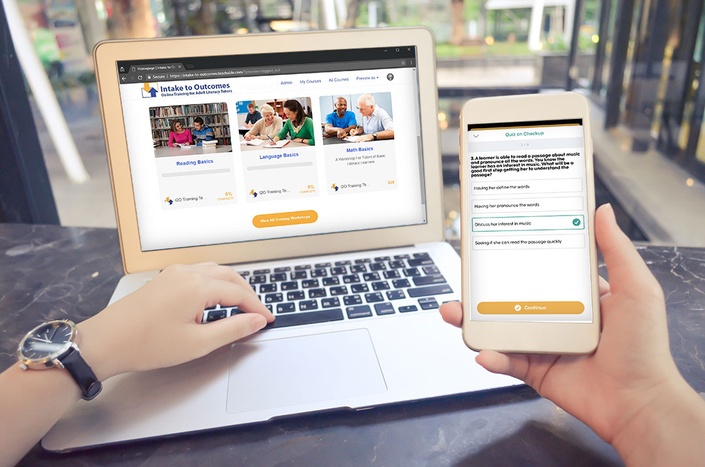 Preview of I2O Workshops
Samples of all I2O workshops and purchasing information
Intake to Outcomes is research-based training for tutors and teachers of adult students functioning at levels 0 through 8. The training is delivered online and includes text, audio, and video along with downloadable materials. It is mobile-friendly and can be accessed at any time on any device. I2O was developed by Literacy New York and has been used to train over 1,000 tutors since it was launched in 2014.
Table of Contents
Overview
Available in days
days after you enroll
Foundations of Reading: Alphabetics
Available in days
days after you enroll
Reading Basics 2.0
Available in days
days after you enroll
Frequently Asked Questions
Is I2O evidenced-based training?
Yes, I2O is based on proven research in teaching adults and years of experience delivering face-to-face training throughout the LNY network.
How long does it take to complete a workshop?
Most trainees can complete a workshop in 4 to 6 hours.
Suppose a trainee has a question?
Every screen includes a section where the trainee can submit a question. The section is moderated and the question will be answered in a timely manner. The discussion board format allows trainees to see questions and answers from others.
Is I2O cost-effective?
Yes, I2O costs a fraction of the cost of face-to-face training. In addition, it is no longer necessary to hire trainers, secure a site, recruit trainees and hope they show up.
Can the training and materials be accessed after the training is completed?
Yes, trainees will have access to the training as long as they continue teaching.